A Narrative Review of Lumbar Fusion Surgery With Relevance to Chiropractic Practice
---
SOURCE:   J Chiropractic Medicine 2016 (Dec);   15 (4):   259–271

Clinton J. Daniels, DC, MS,
Pamela J. Wakefield, DC,
Glenn A. Bub, DC,
James D. Toombs, MD
Veteran Affairs Saint Louis Health Care System,
St. Louis, MO.
---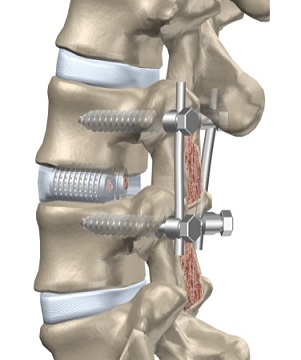 OBJECTIVE:   The purpose of this narrative review was to describe the most common spinal fusion surgical procedures, address the clinical indications for lumbar fusion in degeneration cases, identify potential complications, and discuss their relevance to chiropractic management of patients after surgical fusion.
METHODS:   The PubMed database was searched from the beginning of the record through March 31, 2015, for English language articles related to lumbar fusion or arthrodesis or both and their incidence, procedures, complications, and postoperative chiropractic cases. Articles were retrieved and evaluated for relevance. The bibliographies of selected articles were also reviewed.
RESULTS:   The most typical lumbar fusion procedures are posterior lumbar interbody fusion, anterior lumbar interbody fusion, transforaminal interbody fusion, and lateral lumbar interbody fusion. Fair level evidence supports lumbar fusion procedures for degenerative spondylolisthesis with instability and for intractable low back pain that has failed conservative care. Complications and development of chronic pain after surgery is common, and these patients frequently present to chiropractic physicians. Several reports describe the potential benefit of chiropractic management with spinal manipulation, flexion-distraction manipulation, and manipulation under anesthesia for postfusion low back pain. There are no published experimental studies related specifically to chiropractic care of postfusion low back pain.
There are more articles like this @ our:

Low Back Pain Guidelines Page and the: