A Narrative Review of Lumbar Fusion Surgery With Relevance to Chiropractic Practice
---
SOURCE:   J Chiropractic Medicine 2016 (Dec);   15 (4):   259–271

Clinton J. Daniels, DC, MS,
Pamela J. Wakefield, DC,
Glenn A. Bub, DC,
James D. Toombs, MD
Veteran Affairs Saint Louis Health Care System,
St. Louis, MO.
---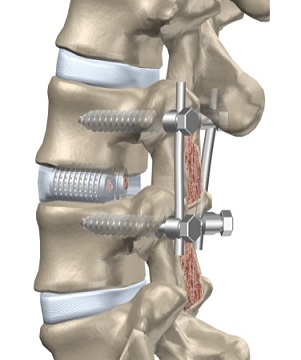 OBJECTIVE:   The purpose of this narrative review was to describe the most common spinal fusion surgical procedures, address the clinical indications for lumbar fusion in degeneration cases, identify potential complications, and discuss their relevance to chiropractic management of patients after surgical fusion.
METHODS:   The PubMed database was searched from the beginning of the record through March 31, 2015, for English language articles related to lumbar fusion or arthrodesis or both and their incidence, procedures, complications, and postoperative chiropractic cases. Articles were retrieved and evaluated for relevance. The bibliographies of selected articles were also reviewed.
RESULTS:   The most typical lumbar fusion procedures are posterior lumbar interbody fusion, anterior lumbar interbody fusion, transforaminal interbody fusion, and lateral lumbar interbody fusion. Fair level evidence supports lumbar fusion procedures for degenerative spondylolisthesis with instability and for intractable low back pain that has failed conservative care. Complications and development of chronic pain after surgery is common, and these patients frequently present to chiropractic physicians. Several reports describe the potential benefit of chiropractic management with spinal manipulation, flexion-distraction manipulation, and manipulation under anesthesia for postfusion low back pain. There are no published experimental studies related specifically to chiropractic care of postfusion low back pain.
There are more articles like this @ our:

Low Back Pain Guidelines Page and the:
CONCLUSIONS:   This article describes the indications for fusion, common surgical practice, potential complications, and relevant published chiropractic literature. This review includes 10 cases that showed positive benefits from chiropractic manipulation, flexion-distraction, and/or manipulation under anesthesia for postfusion lumbar pain. Chiropractic care may have a role in helping patients in pain who have undergone lumbar fusion surgery.
KEYWORDS:   Chiropractic; Manipulation; Operative; Postoperative Periods; Spinal Fusion; Surgical Procedures
---
From the FULL TEXT Article:
Introduction
Lumbar spinal fusion procedures are commonly used treatments for an array of degenerative conditions. [1] Regardless of the type of surgical intervention, up to 61% of patients continue to experience chronic spinal pain after surgery. [2–4] The number of lumbar spinal surgeries has increased over the past several decades with 1,288,496 new posterior lumbar fusion operations reported in the United States alone between 1998 and 2008. [5] The reported prevalence of postoperative patients presenting to chiropractic clinics ranges from 2.3% to 12%. [6–8] Even with the increased frequency of postoperative cases, there is limited evidence on the safety and efficacy of chiropractic care in this population.
Management of chronic degenerative spinal conditions in the United States is estimated to cost nearly $85 billion annually, with a significant percentage attributed to the dramatic increase in the frequency of lumbar fusion procedures. [9–11] In 2004, more than $16 billion in hospital charges were attributed to over 300,000 spinal fusions. [12] Lumbar fusion procedures are performed for a wide array of indications, including correction of degenerative deformities, trauma, infection, tumor, and congenital anomalies, such as scoliosis. [1] The intention of spinal fusion is to restore anatomical alignment and biomechanics to as near normalcy as possible. [1] The application of these surgical fusions continues to expand as technological advances facilitate the ability to achieve a solid arthrodesis and understanding of the pathologic and biomechanical aspects of degenerative spine disease continues to progress. [13]
At present, there is no published article that reviews the literature on chiropractic and postfusion low back pain. Therefore, the purpose of this narrative review was to describe the most common surgical lumbar fusion procedures, address the clinical indications for lumbar fusion in degenerative cases, identify potential complications, and discuss published articles related to chiropractic management.
---
Read the rest of this Full Text article now!
---