Patients Receiving Chiropractic Care in a Neurorehabilitation Hospital: A Descriptive Study
---
SOURCE: J Multidiscip Healthc. 2018 (May 3); 11: 223–231
---
Robert D Vining, Stacie A Salsbury, W Carl Cooley, Donna Gosselin, Lance Corber, and Christine M Goertz
Palmer Center for Chiropractic Research,
Palmer College of Chiropractic,
Davenport, IA, USA.
---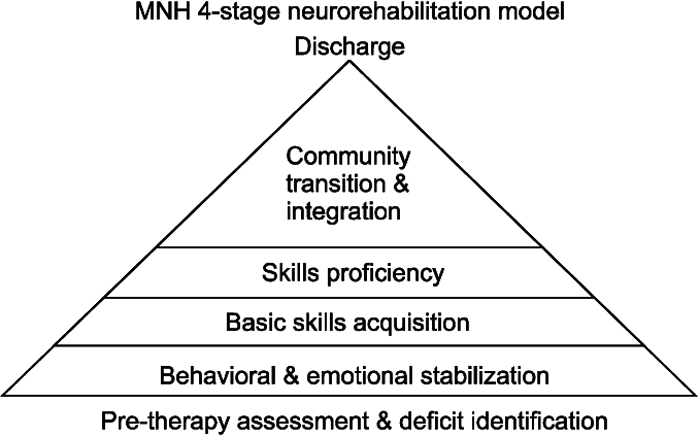 OBJECTIVES: Individuals rehabilitating from complex neurological injury require a multidisciplinary approach, which typically does not include chiropractic care. This study describes inpatients receiving multidisciplinary rehabilitation including chiropractic care for brain injury, spinal cord injury (SCI), stroke, and other complex neurological conditions.
DESIGN: Chiropractic services were integrated into Crotched Mountain Specialty Hospital (CMSH) through this project. Patient characteristics and chiropractic care data were collected to describe those receiving care and the interventions during the first 15 months when chiropractic services were available.
SETTING: CMSH, a 62–bed subacute multidisciplinary rehabilitation, skilled nursing facility located in Greenfield, New Hampshire, USA.
RESULTS: Patient mean (SD) age (n=27) was 42.8 (13) years, ranging from 20 to 64 years. Males (n=18, 67%) and those of white race/ethnicity (n=23, 85%) comprised the majority. Brain injury (n=20) was the most common admitting condition caused by trauma (n=9), hemorrhage (n=7), infarction (n=2), and general anoxia (n=2). Three patients were admitted for cervical SCI, 1 for ankylosing spondylitis, 1 for traumatic polyarthropathy, and 2 for respiratory failure with encephalopathy. Other common comorbid diagnoses potentially complicating the treatment and recovery process included myospasm (n=13), depression (n=11), anxiety (n=10), dysphagia (n=8), substance abuse (n=8), and candidiasis (n=7). Chiropractic procedures employed, by visit (n=641), included manual myofascial therapies (93%), mechanical percussion (83%), manual muscle stretching (75%), and thrust manipulation (65%) to address patients with spinal-related pain (n=15, 54%), joint or regional stiffness (n= 14, 50%), and extremity pain (n=13, 46%). Care often required adapting to participant limitations or conditions. Such adaptations not commonly encountered in outpatient settings where chiropractic care is usually delivered included the need for lift assistance, wheelchair dependence, contractures, impaired speech, quadriplegia/paraplegia, and the presence of feeding tubes and urinary catheters.