Joint Assessment – P.A.R.T.S.
---
SOURCE: Topics in Clinical Chiropractic 2000; 7 (3): 1–10
Thomas F. Bergmann, DC, Bradley A. Finer, DC, DACAN
Professor, Clinical Science Division
Northwestern Health Sciences University
College of Chiropractic
Bloomington, Minnesota
---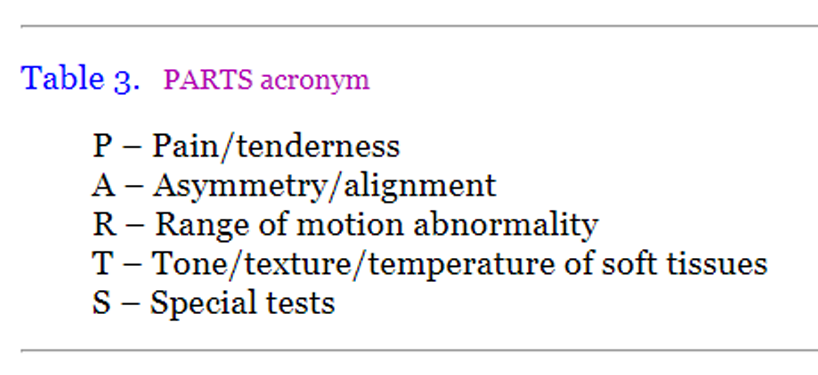 ---
Purpose: An approach to systematically perform clinical work-up for chiropractic subluxation is proposed. Literature on assessment approaches is reviewed and a discussion is presented.
Method: A qualitative review of clinical and scientific literature related to assessment methodologies for subluxation was performed.
Summary: Variation in assessment techniques exists for identification of spinal and other articular joint dysfunction. Useful scientific data also are limited to only a few approaches, and there is a need for a more systematic assessment approach profession wide.
Key words: Articular range of motion, chiropractic, Medicare, palpation, physical examination, subluxation
---
From the FULL TEXT Article
Background
Doctors of chiropractic are portals of entry to the health care system for many patients seeking health care services. As such, they must maintain broad and thorough assessment/diagnostic skills. Before employing any therapy, a clinician must first determine if there is a need for treatment. Therefore, the clinical information that any primary contact provider would want, including a case history, physical examination, clinical laboratory findings, radiographic findings, and any other tests necessary to check for suspected health problems, is needed. Having gathered and interpreted this information, it must be processed in order to arrive at a sound clinical conclusion.
There are more articles like this @ our: