A Retrospective Analysis of Pain Changes and Opioid Use Patterns Temporally Associated with a Course of Chiropractic Care at a Publicly Funded Inner-city Facility
---
SOURCE: J Can Chiropr Assoc 2022 (Aug); 66 (2): 107–117
---
Steven Passmore, Hons BKin, MS, DC, PhD, Quinn Malone, BSc, MSc1, Christian Manansala, BSc, DC, MSc, Spencer Ferbers, BSc,
E. Audrey Toth, DC, Gerald M. Olin, BSc, DC, CDir
Faculty of Kinesiology and Recreation Management,
University of Manitoba,
102- Frank Kennedy Centre,
420 University Crescent,
Winnipeg, MB, R3T 2N2 Canada
---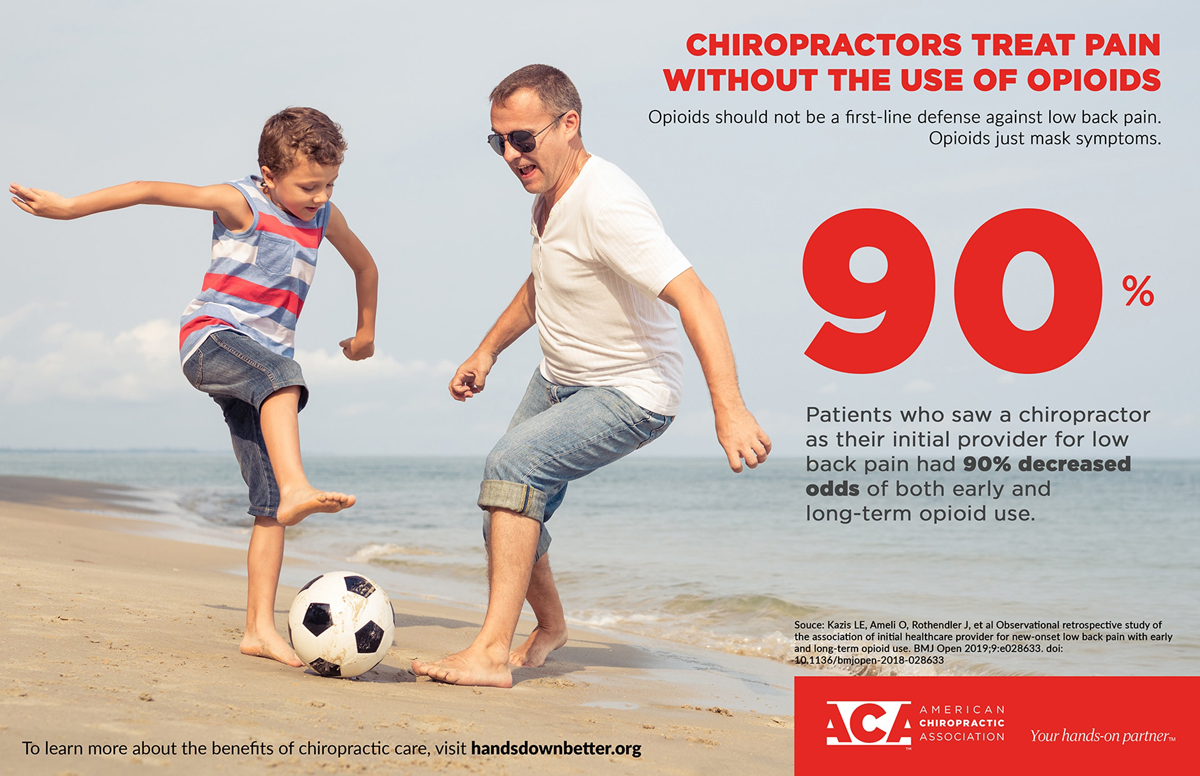 FROM: Kazis et. al, BMJ Open 2019
---
Background: Non-pharmacologic treatment, including chiropractic care, is now recommended instead of opioid prescriptions as the initial management of chronic spine pain by clinical practice guidelines. Chiropractic care, commonly including spinal manipulation, has been temporally associated with reduced opioid prescription in veterans with spine pain.
Purpose: To determine if chiropractic management including spinal manipulation was associated with decreased pain or opioid usage in financially disadvantaged individuals utilizing opioid medications and diagnosed with musculoskeletal conditions.
Methods: A retrospective analysis of quality assurance data from a publicly funded healthcare facility was conducted. Measures included numeric pain scores of spine and extremity regions across three time points, opioid utilization, demographics, and care modalities.
Results: Pain and opioid use significantly decreased concomitant with a course of chiropractic care.
There is more like this @ our:

OPIOID EPIDEMIC Section and the:
INITIAL PROVIDER/FIRST CONTACT Section
Conclusions: A publicly funded course of chiropractic care temporally coincided with statistically and clinically significant decreases in pain and opioid usage in a financially disadvantaged inner-city population.
Keywords: analgesics, back pain, chiropractic, chronic pain, low-income population, musculoskeletal manipulations, musculoskeletal pain, opioid, single-payer system, spine

---
From the FULL TEXT Article:
Introduction
Since 1994, there has been a 4–fold increase in opioid prescription in the United States and long-term opioid use has become a major public health concern. [1, 2] In recent years there has been a decrease in opioid prescription for chronic pain; [3] however, opioid prescription for back pain remains high [4–6], and prescription rates in the US and Canada are two or three times higher than in most European countries. [4] This is problematic because of the high incidence of addiction and overdose related deaths associated with opioid use and the paucity of evidence that opioids actually aid those suffering from chronic musculoskeletal conditions, such as back pain. [7–9 ] Opioid medications impair the ability to engage in activities of daily living [5] and are no more effective than alternative treatments for pain-related dysfunction [10], creating financial and quality of life challenges. While there may be situations where opioid medication prescription is clinically necessary; for those patients with chronic, non-cancer conditions such as those suffering from musculoskeletal conditions including back and neck pain; there are other options that are recommended by clinical practice guidelines (CPGs). [11–14]