Pain Location Matters: The Impact of Leg Pain on Health Care Use, Work Disability and Quality of Life in Patients with Low Back Pain
---
SOURCE: Eur Spine J. 2015 (Mar); 24 (3): 444–451

Samantha L. Hider, David G. T. Whitehurst,
Elaine Thomas, Nadine E. Foster
Arthritis Research UK Primary Care Centre,
Keele University, Keele,
Staffordshire, ST5 5BG, UK.
---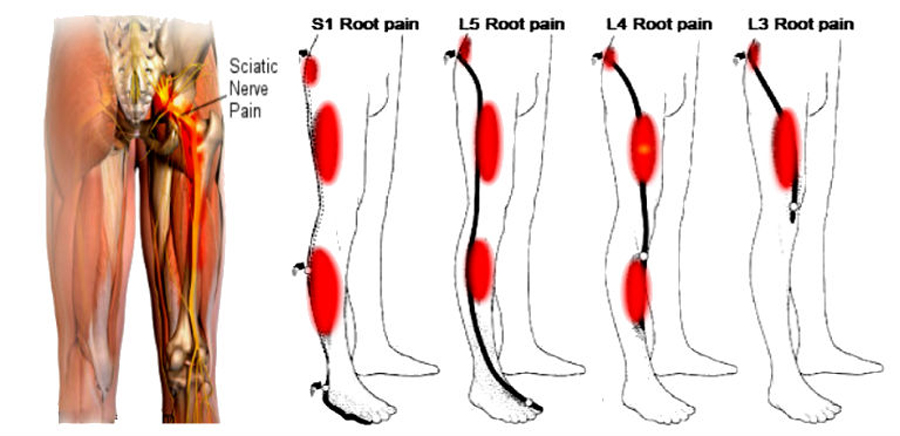 PURPOSE: In low back pain (LBP) patients, those with radiating leg pain or sciatica have poorer pain and disability outcomes. Few studies have assessed the effect of leg pain on health care use and quality of life.
METHODS: Prospective cohort study of 1,581 UK LBP primary care consulters. Back pain, employment, health care utilisation, and quality of life (EQ-5D) data were collected at baseline, 6 and 12 months. At baseline, patients were classified as reporting
(1) LBP only

(2) LBP and leg pain above the knee only (LBP + AK) or

(3) LBP and leg pain extending below the knee (LBP + BK).
RESULTS: Self-reported leg pain was common; at baseline 645 (41%) reported LBP only, 392 (25%) reported LBP + AK and 544 (34%) reported LBP + BK. Patients with LBP + BK, compared to those with LBP only, were significantly more likely to be unemployed, take time off work, consult their family doctor, receive physical therapy, or be referred to other health care practitioners. There were statistically significant decrements in EQ-5D scores for LBP + AK compared to LBP only, and for LBP + BK compared to LBP + AK (p ≤ 0.05 for all comparisons).
There are more articles like this @ our:

Radiculopathy and Chiropractic Page and the:
CONCLUSIONS: Patients with self-reported leg pain below the knee utilise more health care are more likely to be unemployed and have poorer quality of life than those with LBP only 12 months following primary care consultation. The presence of leg pain warrants early identification in primary care to explore if targeted interventions can reduce the impact and consequences of leg pain.
Keywords Low back pain Sciatica Work Health care use Quality of life EQ-5D
---
From the FULL TEXT Article:
Introduction
Low back pain (LBP) is a common musculoskeletal problem. Estimates suggest that LBP affects one-third of the UK population annually; of these individuals, around 20% (1 in 15 of the population) will consult their family doctor (GP) [1]. LBP-related leg pain is also common, although prevalence rates vary widely between studies, ranging from 1 to 43% of LBP patients [2], reflecting the different populations studied and different definitions used. Radiculopathy, nerve root pain or sciatica is defined as pain radiating to the leg, normally below the knee and into the foot with variable neurological findings [2]. Although radiating leg pain is common, clearly not all leg pain is caused by nerve root involvement and may be caused by referred pain or other joint disease.
Studies have shown that the presence of radiating leg pain is a poor prognostic feature in LBP patients and may represent an obstacle to recovery [2, 3]. Although the majority of LBP patients improve within the first 6 weeks, those with radiating leg pain have higher levels of pain and disability [4], take longer to recover [3, 5], are more likely to develop chronic symptoms [6] and also more likely to undergo surgery for their symptoms [7].
---
Read the rest of this Full Text article now!
---