Patient Expectations as Predictors of Outcome in Patients with Acute Low Back Pain
---
SOURCE:   Journal of General Internal Medicine 2008 (Feb)

Samuel S. Myers MD, Russell S. Phillips MD, Roger B. Davis ScD, Daniel C. Cherkin PhD, Anna Legedza ScD, Ted J. Kaptchuk, Andrea Hrbek, Julie E. Buring ScD, Diana Post MD, Maureen T. Connelly MD, MPH & David M. Eisenberg MD
Department of Medicine,
Harvard Medical School,
Mount Auburn Hospital,
Cambridge, MA 02138, USA.
---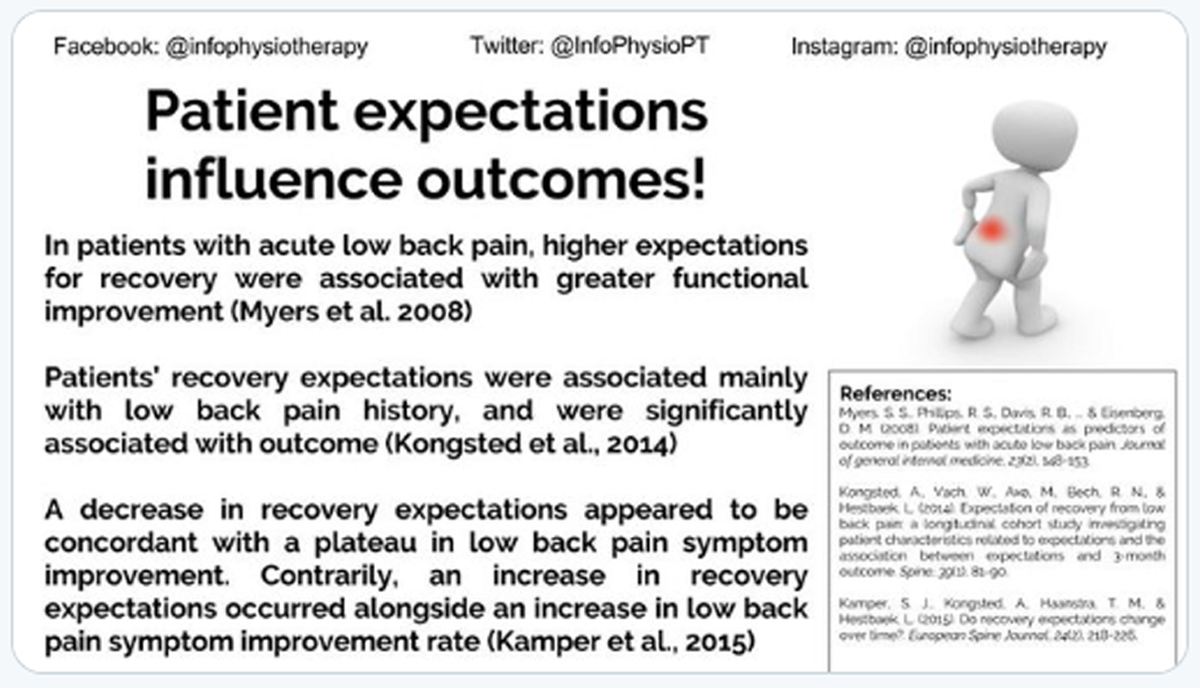 BACKGROUND:   Few studies have evaluated the association between patient expectations for recovery and clinical outcomes, and no study has evaluated whether asking patients to choose their therapy modifies such an association.
OBJECTIVE:   To evaluate the association between patients' expectations and functional recovery in patients with acute low back pain (LBP), and to determine whether that association is affected by giving patients choice of therapy.
DESIGN AND PARTICIPANTS:   A secondary analysis of a randomized controlled trial comparing usual care alone to usual care plus choice of chiropractic, acupuncture, or massage in 444 adults with acute LBP, lasting less than 21 days.
MEASUREMENTS AND MAIN RESULTS:   Primary outcome was functional disability (Roland score) at 5 and 12 weeks.
There are more articles like this @ our: