Neck-tongue Syndrome
---
SOURCE:   BMJ Case Rep. 2018 (Dec 4); 11 (1). pii: e227483

Eric Chun Pu Chu and Andy Fu Chieh Lin
Chiropractic and Physiotherapy Department,
New York Medical Group,
Mong Kok, Hong Kong, Hong Kong.
---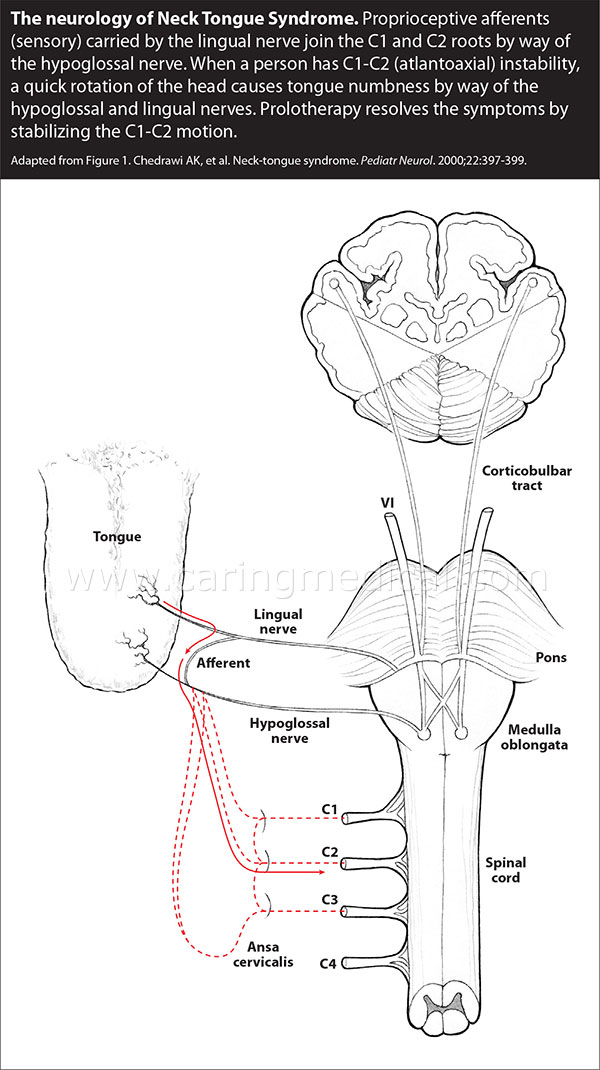 Neck-tongue syndrome (NTS) is a rarely reported disorder characterised by paroxysmal episodes of intense pain in the upper cervical or occipital areas associated with ipsilateral hemiglossal dysaesthesia brought about by sudden neck movement. The most likely cause of this clinical entity is a temporary subluxation of the lateral atlantoaxial joint with impaction of the C2 ventral ramus against the articular processes on head rotation. NTS is an under-recognised condition that can be debilitating for patients and challenging for the treating physicians. Here, we report a 47-year-old man who fulfilled the International Classification of Headache Disorders, third edition criteria for a diagnosis of NTS was treated successfully with a chiropractic approach. There are currently no consensus guidelines for dealing with this disorder. Reassuringly, chiropractic care for uncomplicated NTS appears highly effective.
There are more articles like this @ our: