Chiropractic Care Improves Usual Management for Low Back Pain
---
SOURCE:   Medscape Medical News ~ May 21, 2018
---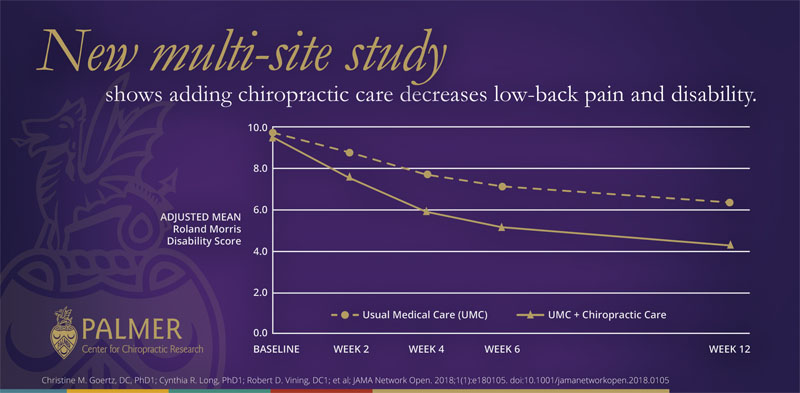 Adding chiropractic care to standard medical management of low back pain (LBP) in a military population reduced patient-reported pain and disability and improved satisfaction scores compared with standard treatment alone, new data show.
The findings, reported by Christine M. Goertz, DC, PhD, from Palmer College of Chiropractic, Davenport, Iowa, and colleagues in an article published online May 18 in JAMA Network Open, confirm results from the team's pilot study.
In addition, the new data align with recent guidelines from the American College of Physicians that recommend inclusion of spinal manipulation, among other nondrug treatments, as first-line therapy for acute and chronic low-back pain.
For the current study, Goertz and colleagues enrolled 750 active-duty US service members aged 18 to 50 years with LBP from three military facilities in a pragmatic comparative effectiveness trial.
Patients were screened between September 28, 2012, and November 20, 2015, and 250 patients from each of the study sites were allocated to receive usual medical care with chiropractic care (375 participants) or usual medical care alone (375 participants). Usual medical care was defined as any care recommended or prescribed by nonchiropractic military clinicians to treat LBP, including self-management advice, drug treatment, physical therapy, or referral to a pain clinic.
There are more articles like this @ our:
Patients in the chiropractic care group received standard treatment plus up to 12 chiropractic visits for spinal manipulative therapy in the low back and adjacent regions during the 6-week intervention period. Additional therapies, such as rehabilitative exercise, interferential current therapy, ultrasound therapy, cryotherapy, superficial heat, and other manual therapies, could also be included in chiropractic care.
The primary outcomes of self-reported pain intensity, as measured by the Numerical Rating Scale, and disability, based on the Roland Morris Disability Questionnaire, both favored usual and chiropractic care compared with usual care alone. At week 6, the mean difference in low-back pain intensity between the combined treatment group and the usual care alone group was −1.1 (95% confidence interval [CI], −1.4 to −0.7), and the mean difference in disability for the respective groups was −2.2 (95% CI, −3.1 to −1.2). Similar findings, although of lesser magnitude, were observed at week 12, they note.
Sensitivity analyses designed to examine possible effects of missing data on results of the primary outcomes showed effects in the same direction, with similar magnitudes and statistical significance.