The Global Spine Care Initiative:
Classification System for Spine-related Concerns
---
SOURCE:   European Spine Journal 2018 (Sep)
---
Scott Haldeman, Claire D. Johnson, Roger Chou, Margareta Nordin, Pierre Côté, Eric L. Hurwitz, et al.
Department of Epidemiology,
School of Public Health,
University of California Los Angeles,
Los Angeles, CA, USA
---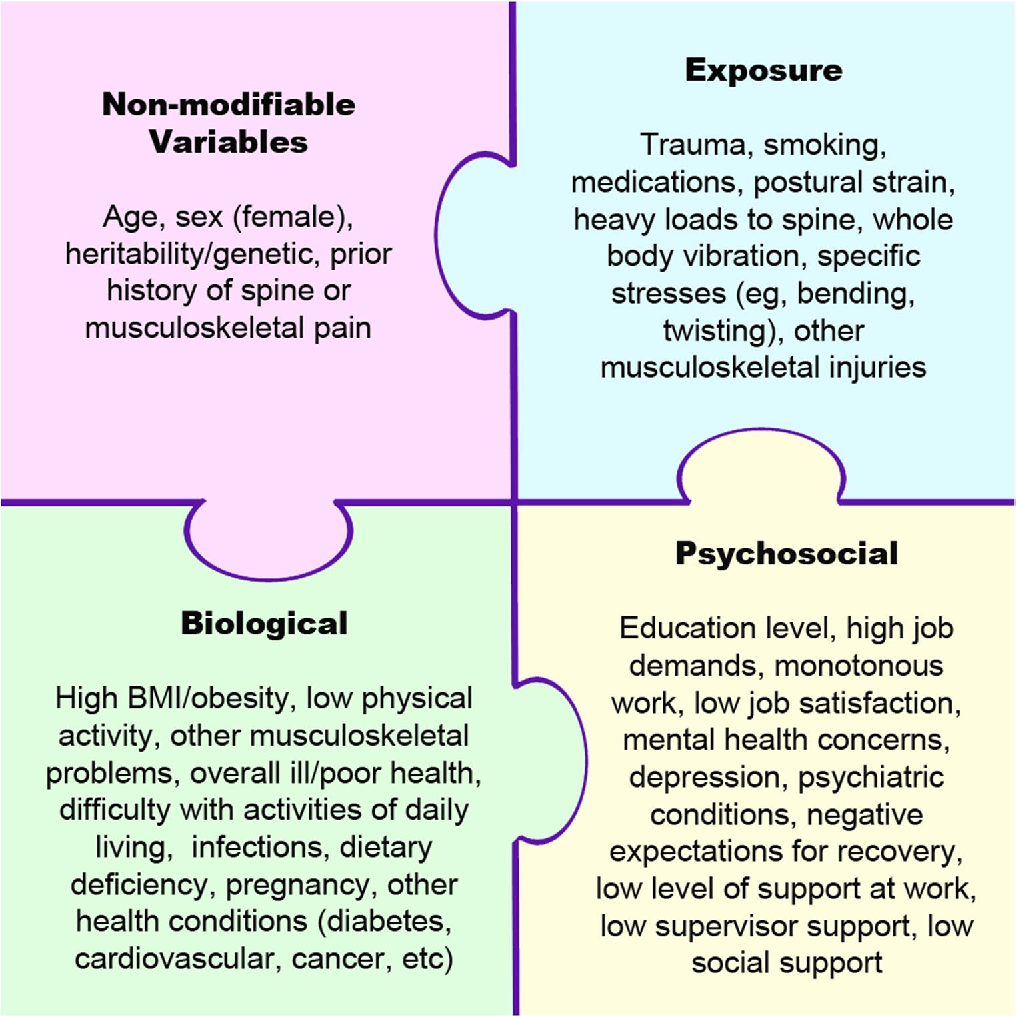 ---
PURPOSE:    The purpose of this report is to describe the development of a classification system that would apply to anyone with a spine-related concern and that can be used in an evidence-based spine care pathway.
METHODS:  Existing classification systems for spinal disorders were assembled. A seed document was developed through round-table discussions followed by a modified Delphi process. International and interprofessional clinicians and scientists with expertise in spine-related conditions were invited to participate.
There are more articles like this @ our:
RESULTS:    Thirty-six experts from 15 countries participated. After the second round, there was 95% agreement of the proposed classification system. The six major classifications included: no or minimal symptoms (class 0); mild symptoms (i.e., neck or back pain) but no interference with activities (class I); moderate or severe symptoms with interference of activities (class II); spine-related neurological signs or symptoms (class III); severe bony spine deformity, trauma or pathology (class IV); and spine-related symptoms or destructive lesions associated with systemic pathology (class V). Subclasses for each major class included chronicity and severity when different interventions were anticipated or recommended.
CONCLUSIONS:    An international and interprofessional group developed a comprehensive classification system for all potential presentations of people who may seek care or advice at a spine care program. This classification can be used in the development of a spine care pathway, in clinical practice, and for research purposes. This classification needs to be tested for validity, reliability, and consistency among clinicians from different specialties and in different communities and cultures. These slides can be retrieved under Electronic Supplementary Material.
KEYWORDS:    Back pain; Critical pathways; Delphi technique; Neck pain; Spinal diseases
---
From the FULL TEXT Article:
Introduction
Spine-related pain and symptoms are ubiquitous in societies across the globe [1, 2]. People with spinal disorders commonly present to clinicians and spine clinics with neck, mid back, or low back pain. However, people may also present with complaints that are more serious than localized spine pain including deformity, inflammatory, infectious, or neoplastic disorders. Furthermore, clinicians who manage spinal disorders may be approached with concerns about structural spine pathology found incidentally in a diagnostic imaging study or with an observed deformity, such as scoliosis. Family, friends, and employers may rely on spine care providers and programs for information and answers to questions about prevention or prognosis of spinal disorders and related disability.
World Spine Care is a multinational, not-for-profit, charitable organization founded in 2008 [3]. It was launched to fill the gap in the evidence-based treatment of spinal conditions found in underserved areas around the world. World Spine Care developed the Global Spine Care Initiative (GSCI) to reduce the global burden of disease and disability by bringing together leading health care scientists and specialists, government agencies, and other stakeholders to transform the delivery of spine care worldwide but especially in underserved and low- and middle-income countries. The mission of the GSCI is to develop an evidence-informed, practical, and sustainable, care pathway and spine health care model for communities with various levels of resources around the world [4–6].
A successful care pathway requires the ability to categorize individuals who present with concerns for triage and management. To satisfy the GSCI mission, the classification must address anyone presenting with a spine concern. Therefore, it is not sufficient to consider a system limited to one area of the spine, one pathological process, non-specific spine pain, or only those people who may be concerned about disability. The classification system must include all possible patient presentations, including common and uncommon spinal symptoms and diagnoses. The system must be able to identify individuals whose symptoms have strong psychological or social components and those that are associated with systemic disorders or comorbidities. In addition, the system must be adaptable or responsive to different cultures and traditions and be flexible to accommodate differing levels of available resources. The purpose of this paper is to present a classification system for spine-related concerns that would apply to all persons with spine-related concerns and that can be used in an evidence-based spine care pathway.
---
Read the rest of this Open Access article now!
---