Measuring Musculoskeletal Pain in Infants, Children, and Adolescents
---
SOURCE: J Orthop Sports Phys Ther 2017 (Oct); 47 (10): 712–730

---
Zoe A. Michaleff, BAppSc (Phty), PhD, Steven J. Kamper, BSc, BAppSc, PhD, et al.
Primary Care Centre,
Research Institute for Primary Care and Health Sciences,
Keele University,
Keele, Staffordshire
ST5 5BG United Kingdom.
---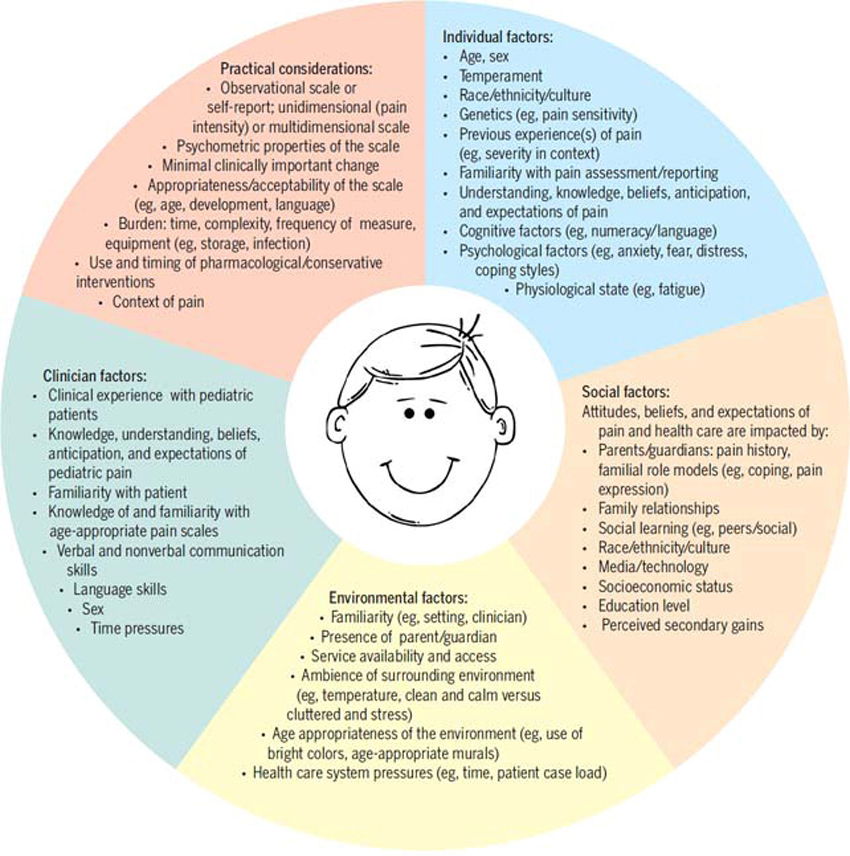 ---
Accurate, reliable, and timely assessment of pain is critical for effective management of musculoskeletal pain conditions. The assessment of pain in infants, children, and adolescents with and without cognitive impairment can be particularly challenging to clinicians for a number of reasons, including factors related to the consultation (eg, heterogeneous patient population, time constraints), the clinician (eg, awareness/knowledge of available pain scales), standardized assessment scales (eg, availability, psychometric properties, and application of each scale), the patient (eg, developmental stage, ability to communicate), and the context in which the interaction took place (eg, familiarity with the setting and physiological and psychological state).
As a result, pain is frequently not assessed or measured during the consultation and, in many instances, underestimated and undertreated in this population. The purpose of this article is to provide clinicians with an overview of scales that may be used to measure pain in infants, children, and adolescents.
There are more articles like this @ our:
Specifically, the paper reviews the various approaches to measure pain intensity; identifies factors that can influence the pain experience, expression, and assessment in infants, children, and adolescents; provides age-appropriate suggestions for measuring pain intensity in patients with and without cognitive impairment; and identifies ways to assess the impact of pain using multidimensional pain scales.
Keywords: cognitive impairment; multidimensional pain scales; observation; pain intensity; self-report.
---
From the Full-Text Article:
Background
Musculoskeletal pain is common in children and adolescents. As many as half of all children and adolescents report experiencing musculoskeletal pain at least once a month, and as many as a third report persistent or recurrent musculoskeletal pain. [70, 75] Musculoskeletal pain is known to have a substantial impact on the everyday life of children and adolescents. For example, in those who report musculoskeletal pain, approximately 40% report that it interferes with daily activities and sports participation, 20% report missing school/work, 20% to 30% take medication, and more than half seek health care, all of which are associated with significant health care costs, especially for those who experience persistent pain. [52, 58, 100, 109, 110] Critical to the effective management of musculoskeletal pain by clinicians is accurate, reliable, and timely assessment, which is a pivotal component of evidence-based medicine. Specifically, the valid and reliable measurement of pain is helpful in understanding a person's pain experience, identifying appropriate treatment options, and monitoring change in a person's pain condition, minimizing potential adverse physiological and psychological consequences of unrelieved or inadequately managed pain. [3, 18, 34, 93, 107, 111, 146]