Be Good, Communicate, and Collaborate: A Qualitative Analysis of Stakeholder Perspectives on Adding a Chiropractor to the Multidisciplinary Rehabilitation Team
---
SOURCE:   Chiropractic & Manual Therapies 2018 (Jun 22); 26: 29

Stacie A. Salsbury, Robert D. Vining, Donna Gosselin and Christine M. Goertz
Palmer Center for Chiropractic Research,
Palmer College of Chiropractic,
Davenport, USA
---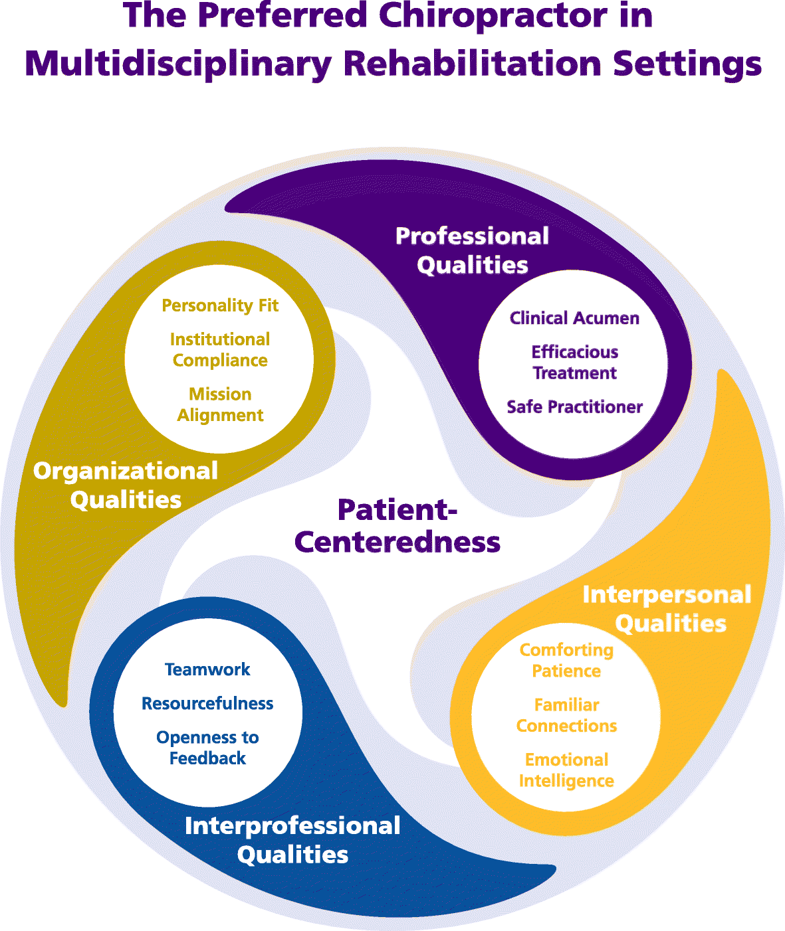 Background   While chiropractors are integrating into multidisciplinary settings with increasing frequency, the perceptions of medical providers and patients toward adding chiropractors to existing healthcare teams is not well-understood. This study explored the qualities preferred in a chiropractor by key stakeholders in a neurorehabilitation setting.
Methods   This qualitative analysis was part of a multi-phase, organizational case study designed to evaluate the planned integration of a chiropractor into a multidisciplinary rehabilitation team. The setting was a 62–bed rehabilitation specialty hospital located in the northeastern United States. Participants included patients, families, community members, and professional staff of the administrative, medical, nursing, and therapy departments. Data collection consisted of audiotaped, individual interviews and profession-specific focus groups guided by a semi-structured interview schedule. Transcripts were imported into a qualitative data analysis program for data analysis. An iterative coding process using thematic content analysis categorized key themes and domains.
Results   Sixty participants were interviewed in June 2015, including 48 staff members, 6 patients, 4 family members, and 2 community members. Our analysis generated a conceptual model of The Preferred Chiropractor for Multidisciplinary Rehabilitation Settings composed of 5 domains and 13 themes. The domain, Patient-Centeredness, or the provision of healthcare that is respectful, responsive, and inclusive of the patient's values, preferences, and needs, was mentioned in all interviews and linked to all other themes. The Professional Qualities domain highlighted clinical acumen, efficacious treatment, and being a safe practitioner. Interpersonal Qualities encouraged chiropractors to offer patients their comforting patience, familiar connections, and emotional intelligence. Interprofessional Qualities emphasized teamwork, resourcefulness, and openness to feedback as characteristics to enhance the chiropractor's ability to work within an interdisciplinary setting. Organizational Qualities, including personality fit, institutional compliance, and mission alignment were important attributes for working in a specific healthcare organization.
There are more articles like this @ our:
Conclusions   Our findings provide an expanded view of the qualities that chiropractors might bring to multidisciplinary healthcare settings. Rather than labeling stakeholder perceptions as good, bad or indifferent as in previous studies, these results highlight specific attributes chiropractors might cultivate to enhance the patient outcomes and the experience of healthcare, influence clinical decision-making and interprofessional teamwork, and impact healthcare organizations.
Keywords   Patient-centered care, Chiropractic, Rehabilitation, Interprofessional relations, Professional competence, Musculoskeletal pain
---
From the FULL TEXT Article:
Background
Chiropractors are integrating into multidisciplinary settings with increasing frequency, but relatively little is known about the perceptions that medical providers and patients hold about the process of making this new addition to the healthcare team. [1–4] Perceptions about the chiropractic profession may differ considerably by stakeholder group. [5–24] Lay people often report being receptive to seeing a chiropractor as a patient. [5, 6] And yet, lay opinions about chiropractic are characterized by skepticism, confusion, and distrust on one extreme to enthusiastic affirmations about these providers on the other. [5, 6, 25] Chiropractic patients themselves often report positive evaluations of the care received from chiropractors, noting satisfaction with the clinical information offered, concern shown toward patients, and these providers' confidence in treating back pain. [8, 10, 26] Chiropractic patient perceptions of the treatment abilities of chiropractors are strongest for musculoskeletal conditions, including back pain, muscle and joint pain, and headaches, with varying levels of support for the effectiveness of chiropractic treatment for other health conditions. [11]
In contrast, the literature on interactions between chiropractors and other healthcare professionals often tells a story of fragmentation, disconnection, boundary skirmishes, and a general failure to communicate. [12–17] Primary care providers and medical specialists have recognized the competence of some chiropractors to treat some musculoskeletal problems in some patients, particularly those with low back pain. [18, 19] Medical and osteopathic physicians, physiotherapists, manual therapists, obstetricians and midwives, and other healthcare professionals often report minimal knowledge of the chiropractic profession or its treatments. [18–20, 24, 27] Further, some medical providers express concerns about the safety of spinal manipulation and voice skepticism over the efficacy of the therapeutic approaches used by chiropractors. [18–20, 22, 27] Healthcare providers and students often report having had no first-hand encounters with a doctor of chiropractic, either personally as a chiropractic patient or professionally in a collegial relationship [18, 24, 27], which may lead to misperceptions about the treatments offered by chiropractors. Nonetheless, many types of physicians describe negative attitudes towards chiropractic as a profession, at times based upon an experience reported by an individual patient. [14, 19, 22] For example, orthopedic surgeons report concerns with the variability in quality and approach between chiropractors, questioned the ethics of some providers and the use of 'fringe' treatments in some clinics, and commented on the inadequacy of educational training and the sparse scientific basis of chiropractic treatments. [22, 23]
---
Read the rest of this Full Text article now!
---